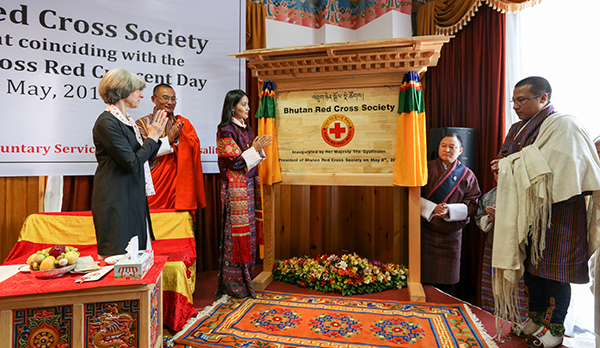 Her Majesty unveiled the notched ceremonial scarf on the plaque of the Bhutan Red Cross Society, signifying its opening.
The opening of the society is the first step towards getting recognition for the international humanitarian movement. Her Majesty The Gyaltsuen who is the president of Bhutan Red Cross Society said Bhutan is now the part of the global movement.
"We now become part of global movement that is as resilient as it is dynamic. This is evident in the manner in which the Red Cross Organisation has, in different regions, adapted its vocation to supplement efforts that address the pressing needs of that particular community and country. These endeavours include any manner of response-be it in times of emergencies and disaster, or the energise efforts towards social inclusion, health, and climate change".
Her Majesty also said the Bhutan Red Cross Society will greatly supplement the efforts of government and other organisations.
"I am confident that the Bhutan Red Cross Society will greatly supplement the efforts of the royal Government of Bhutan, the DeSuung and various other organisations and CSO's who have pledged their time and service in the spirit of equality, active participation and volunteerism".
Bhutan Red Cross Society(BRCS) will serve as an auxiliary to the government in three program areas of disaster management, health, and social services. It was instituted under the Bhutan Red Cross Society Act, 2016 as an autonomous and non-profit organisation.
The act was endorsed by the parliament, last year.
"The most important thing is now we have to work on having members and volunteers because when we talk about Red Cross Society Red Crescent Movement the asset is the members and the volunteers," said the Acting Secretary of BRCS, Dragyel Tenzin Dorji.
Prior to the launch of BRCS, an eight member committee comprising of members from Department of Disaster Management, National Council, Royal Bhutan Army, and private sector was formed in 2015. It will now work towards convening the first General Assembly of the Society before the end of this year.
Today there are 190 countries in the Red Cross and Red Crescent Movement.