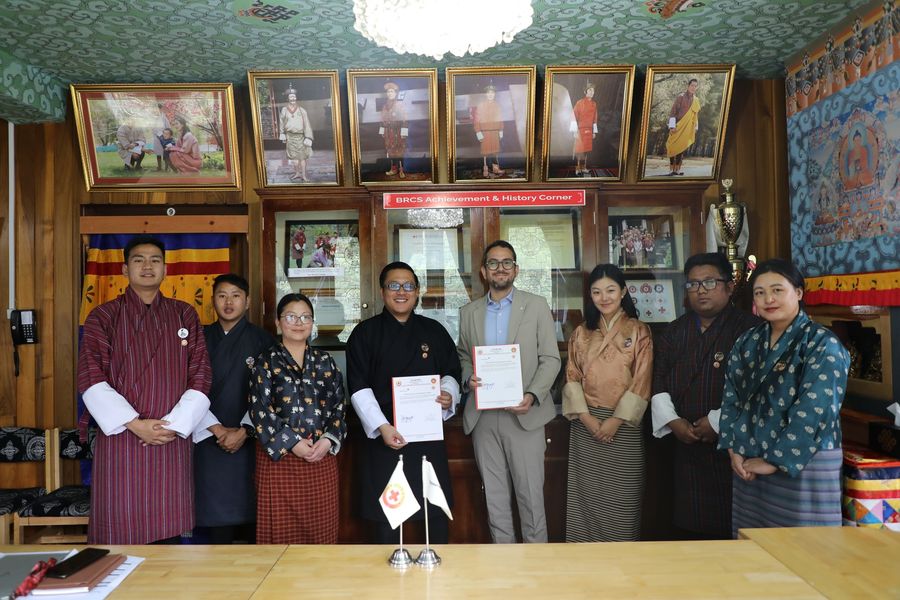 BRCS hosted a visit of the representative from the Finnish Red Cross, the head of the Region for Asia Pacific Mr. Juan Daniel Reyes from 18-24 June 2023.
The highlight of his visits was the ceremonial signing of the Partnership Renewal Agreement between the Bhutan Red Cross Society (BRCS) and Finnish Red Cross (FRC) as per the Project Contract Agreement signed virtually in April this year in support of the BRCS Operation Plan 2023-2025.
During his four days visit, the FRC delegate met with the Representative of His Majesty's Secretariat to BRCS, Dy. Chamberlain Karma Tenzin, who thanked FRC for the gracious and continued support to the National Society that has helped make a difference in the lives of the vulnerable population in the community. In addition, the delegate also called a meeting with the divisions to perceive the prospective technical support from FRC in strengthening the capacity of the National Society. The Headquarter team also presented the progress of the activities outlined in the BRCS National Plan of Action supported by FRC.
In order to comprehend the Branch activities and its setups, the delegate visited Bumthang Branch and on the way met with the volunteers and Branch Coordinators from Wangdue and Trongsa Branches.
In Bumthang, the delegate witnessed the Branch Induction, Non-Medical First Aid, Disaster Management, and Communication literacy training provided to the new volunteer recruit by the team from the BRCS Headquarter.